Brief history of
El Colegio de México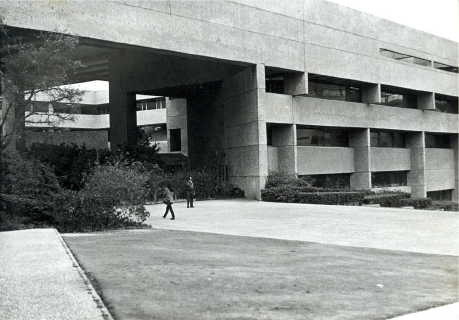 The origins of El Colegio de México are linked to the arrival of a large number of Spanish republican intellectuals who came to Mexico as a result of the Spanish Civil War (1936-1939). In March 1939, the President of Mexico, Lázaro Cárdenas, appointed the distinguished Mexican diplomat and intellectual, Alfonso Reyes, as director of what was then known as La Casa de España which received many of the most distinguished exiles, all formerly university professors and rectors in Spain. The institution was placed under the patronage of important Mexican functionaries, including Eduardo Villaseñor, undersecretary of Finance, in representation of the Government; Gustavo Baz, rector of the National University of Mexico; Enrique Arreguín, of the Ministry of Public Education, and Daniel Cosío Villegas, who served as secretary of the board of trustees.
Shortly thereafter, in October 1940, El Colegio de México was established and began work on these already important foundations. The first President of the institution was Alfonso Reyes, who, for twenty years until his death on December 27, 1959, devoted his uninterrupted energies to the cultural and academic tasks involved in supervising its early academic centers in history, literature, philology and sociology as well its already very active department of publications. Also decisive was the intelligent and energetic support of Daniel Cosío Villegas, who was Secretary General of El Colegio de México during its early years and later as second president in the years 1960 to 1963; during his tenure the Center of International Studies was founded.
Silvio Zavala, third president of El Colegio from 1963 to 1966 was a founding father of the Center for Historical Studies, established in 1941, the oldest of this institution. During his brief years as president of El Colegio, Silvio Zavala gave continuity to plans drawn up by Cosio Villegas to create other centers including the Center for Asian and African Studies and to expand classrooms, library and infrastructure.
Víctor L. Urquidi presided over El Colegio from 1966 to 1985. He was responsible for the creation in 1964 of a first Center for Economic and Demographic Studies, and then during his years as president he encouraged the development of other academic centers: the Center of Sociological Studies, the Center of Economics, the Center for Demographic Studies and Urban Development and several research programs including the Program of Gender Studies, which is now incorporated into the Center for Sociological Studies. In 1976 Víctor Urquidi supervised the inauguration of the beautiful and very functional building of El Colegio de México which has received several international and national awards: the architects were Teodoro González de León and Abraham Zabludovsky.
Mario Ojeda was appointed president of El Colegio de México on September 20, 1985 and held this position until 1995. Founding member of the Center for International Studies, he supervised the operation of El Colegio de México and its various academic centers during a decade with a sure hand despite difficult times in terms of the national economy and national politics. During his administration major improvements were made to the institution including the construction of the fifth level of offices for professors, classrooms and seminars.
Andrés Lira was appointed president of El Colegio de México in 1995, holding the position until September 2005. During his tenure in 1998, institutional autonomy was obtained. In December 2002 the Organic Statute of El Colegio de México was approved, which has been renewed on several occasions and can be consulted on the institutional website. In 2003 the Academic Faculty Council was launched and improvements were made to the building's infrastructure, library and general services, as well as the establishment of the institution's historical and administrative archive.
Javier Garciadiego Dantan was appointed president of El Colegio de México from September 20, 2005 until September 19, 2015. Under his tenure the high level of performance of the institution in teaching, research and publications was maintained. The pension program was launched, which has allowed for renewal of the faculty. Substantial improvements were made in the area of computer equipment and software programs for teaching and research. Likewise, under his mandate the process of the construction of a new and very modern wing of his library was begun. The new building with facilities with top flight digital technology was inaugurated in May of 2016.
Silvia Elena Giorguli Saucedo is the president of El Colegio de México since September 2015. She is a demographer with a doctorate from Brown University and has been a research fellow at Princeton and Stanford Universities. She coordinates research projects on international migration and was elected president of the Mexican Society of Demography (2011-2012). She has also formerly been director of the Center for Urban Demographic and Environmental Studies of El Colegio de México.
For seven decades, the institution has gradually increased its teaching and administrative staff, as well as the number of researchers and fellows. It has also continued its prestigious publications program, with a total of more than four thousand books and academic journal volumes published. Thousands of graduates have graduated from the classrooms of El Colegio who have excelled in research, teaching, public functions and other fields of professional activity both in Mexico and in many countries of the world, particularly throughout Latin America.